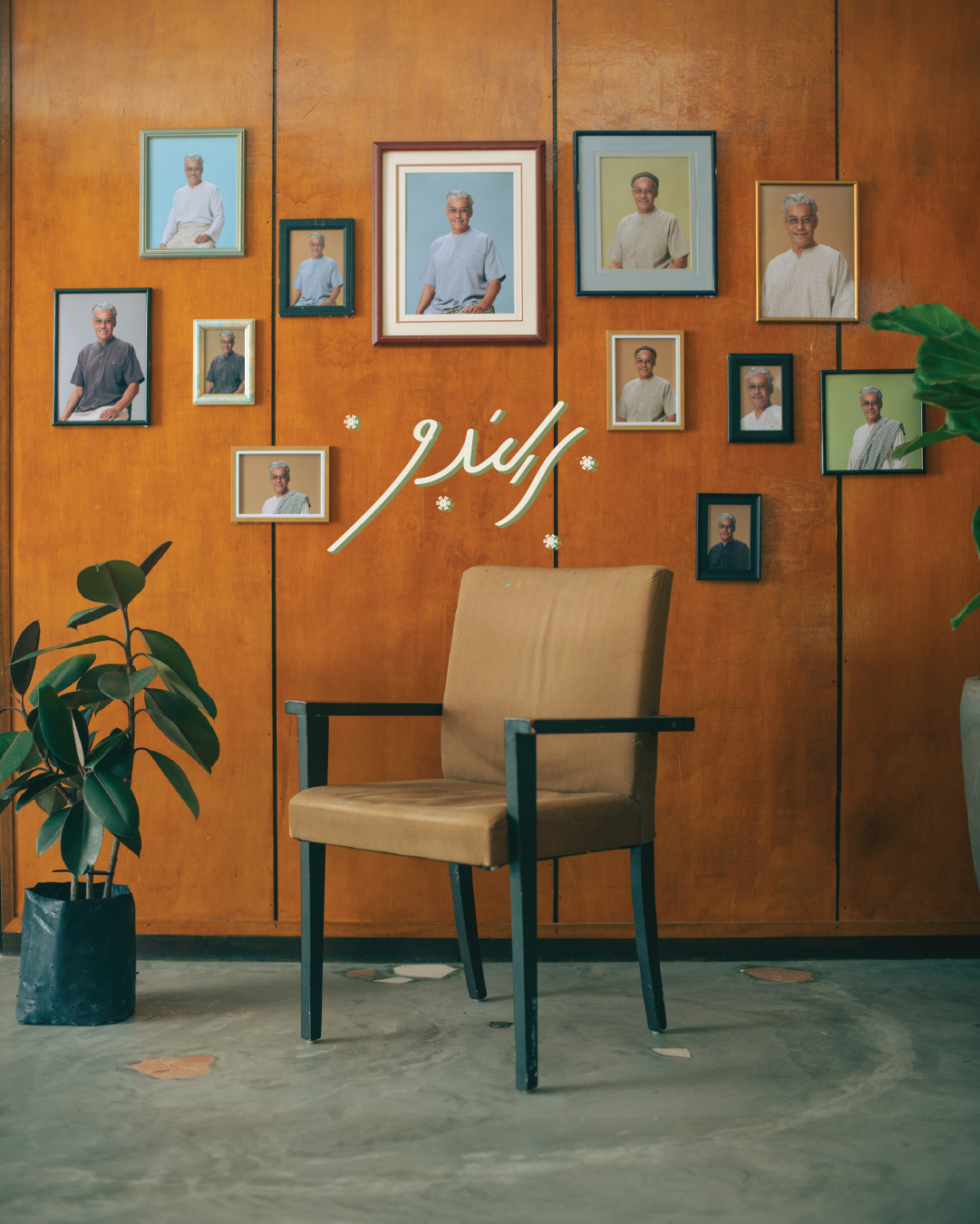 ريندو
Burung tiong menyanyi merdu,
Atuk leka mencanting jawi;
Pada kampong kupendam rindu,
Entah bila 'kan bersua lagi.

Section
Drop element here!
Bagai pungguk rindukan bulan, aku terkenang kampung halaman.

Like a time travel machine, let us go back to the 90s era.

RINDU (ريندو) is a campaign that portrays the founder, Ana —yearning for her hometown after being in quarantine for quite a period of time —celebrating Eid with her family and waking up to songbirds instead of ravens. One of the memories she holds dearly is watching her late grandfather writing and teaching Jawi, a writing system used for writing the Malay language by using Arabic alphabet. This collection is created to revisit the mellow and meaningful emotions experienced during Eid in the past —bringing back joy that fills faces of all families and friends.

A total of 25 classic looks altogether, prepared to merge and mingle, with some of them being gender-neutral. As earthy colour palettes reminisce some nostalgic kampong moments, browsing through Rindu almost feels like flipping through vintage photo albums. Yet contrast and vibrant key colours come alive through these outfits too, just like the antique TV box in the middle of atuk's living room.

Paying homage to the elderlies who shaped early memories and taking inspiration from our heritage —the traditional Malay garments —stripes and plaid have become the central pattern of this collection. Every ageless piece designed should fit into any decade and occasion, hence we decided to preserve its original silhouette with hints of fresh touches to improve versatility and functionality. Loose silhouette will allow multi-styling and make space for additional accessories, creating a distinctive style for the one who dawns it.


Jauh di mata, dekat di jiwa.
Tiba hari mulia, kita di bawah anak bulan yang sama.

With this new norm and pandemic life, rindu has been here to stay with us for a longer time. So enough opposing it. Let's celebrate it instead.
Let's celebrate rindu.
Change your curtains and cushion covers even if they're from last decade. Fill in balang kuih with your homemade semperit even if they're ugly. Put on pelita or lampu raya around your house and have your neighbours do it for their homes too. Fall asleep on tilam toto with all of your kids at the living room after watching P. Ramlee movies. Send handwritten Raya greeting cards to your friends and families instead of sending virtual cards. This is your tribute. This is how you celebrate the memories of your kampung and your childhood.

Section
Drop element here!
Section
Drop element here!
Section
Drop element here!
Section
Drop element here!
Behind RINDU
Director Amani Azlin
Producer Sara Kong
Videographer Matthew Chow
Photographer Shah Azman
Assistant Photographer Lobach
Production Assistants Farah Fadzil & Christy
Editor Farna

Music Gaut by Fauxe

Art Department Fyka & Hafiz

Talents Megat Zulkifli, Sherry, Amad Zai & Nina Amin

Wardrobe Anis Zahari & Nini Chan
Makeup Artist Afie Rohim

BTS Izlia Izelan
Copywriter Wani Ardy & Nini Chan

Special thanks to Byfqi, Megat Najmi & Kharisma P. Lanang
Concept & Collection by Ana Abu

5 comments
HMar 30, 2021

tak sabar nak beli kebarung tuuu😭sekali pandang memang taknak lepas dah..insyaallah ade rezeki kite orderrr jangan sold out pleaseeee♥️

Ellynorsuria Mar 24, 2021

Brilliant Ana

AzhariMar 24, 2021

Just looking at the collection makes me feel the state of tranquility. With the current pandemic and how our movements were being limited, this collection exudes home, kampong, raya, celebration and unity (which I missed so dearly). With that, the collection is so minimal yet so interesting to the eyes and definitely interchangeable for an everyday look too (not just for raya). Yet another good job for an amazing masterpiece.

Ainur AdhwaMar 23, 2021

Dear Ana Abu,
This whole collection is just brilliant. Big congrats for your team for making this Rindu beyond my only shopping raya. I am overwhelmed with the whole look and concept. Your designs, colour scheme, choice of materials, detailings, amazing shots, concept and theme is just genius like you always do year by year. I really can't wait for tomorrow to come. My heart beat fast just now scrolling your Lookbook. You just stole my heart again and again, you really had my loyalty once again with your brand. My BFF and I really waited for your Eid collection as we know you always give your best to your 'community'. You just proved it true, again. Congratulations, Ana and team. I wanna cry but I have to see my little munchkin at school tomorrow ( Thank God my class will end at 11 am, so I can scroll and shop rightaway!) Semoga ada rezeki buat kami yang sentiasa menantikan koleksi daripada Anaabu. Art berat never dies. May your team fly high and continue to provide us with always-beyond-everything. Semoga sentiasa menyentuh hati- hati kami dengan hasil anda. Will always be with you :)